The University at Buffalo's new $7 million downtown incubator represents the region's latest step toward promoting the growth of startups.
The incubator consists of four floors inside the Center of Excellence for Bioinformatics and Life Sciences on the Buffalo Niagara Medical Campus. There are sleek new offices for entrepreneurs, along with laboratory space.
But the flashy new incubator is really about what is supposed to emerge from it: startups that develop and grow, adding jobs and attracting investment, and becoming a more-robust part of the local economy.
If startups flourish as advocates hope, some of them will mature into big employers that set off a chain reaction of growth. One such example is ACV Auctions, the Buffalo-based tech company that won the 43North competition as a startup in 2015 and is now on the verge of selling stock to the public.
When that happens, the region adds hundreds of jobs. Investors reap big profits from their early, high-risk stakes in the company, leaving them with even more capital to invest in other ventures, should they choose to do so.
And seeing companies such as ACV grow into an established company set to launch an initial public offering could encourage others with innovative ideas to try to turn them into businesses.
"Think about ACV and what they were four years ago – that's the bigger picture," said Christina Orsi, UB's associate vice president for economic development. "We're hoping to help support the next ACV, the next Athenex, so that in years from now, what we're talking about are several (investor) exits and thousands of jobs.
"And then they're hiring and supporting the next generation of entrepreneurs. They're now becoming angel investors and support more startups."
For decades, the Buffalo Niagara region had an undersized startup community, lagging behind other parts of the country. But the drive to cultivate startups has received much greater attention – and dollars – over the past decade as part of the state's Buffalo Billion economic development initiative.
43North, part of the Buffalo Billion, aims to attract and keep startups here with its annual state-funded business plan competition. Another state-backed program, Launch New York, mentors and invests in budding upstate companies. The Start-Up NY program gives startups the chance to operate free of state taxes.
And institutions such as UB aim to convert breakthroughs in research into new businesses – another of the region's shortcomings that state officials made it a priority to reverse almost a decade ago. The incubator is one example of the stepped-up efforts to capitalize on technology coming out of UB.
"I think this is exactly what a research university should be doing, and this ecosystem really has been fantastic," said Satish K. Tripathi, UB's president. "You can see it downtown. You can see it elsewhere in Buffalo."
Along with the $7 million to renovate the incubator, there is a $13.5 million Innovation Investment Fund, supporting startups with grants and investments, and $11.4 million for entrepreneurial support services, programs and personnel.
Amanda Mays, regional director of Empire State Development, said the incubator "will be a major contributor to making the city of Buffalo a top-notch entrepreneurial location in the United States.
"While efforts like 43North continue to attract the best and brightest startups from around the globe, the Innovation Hub will cultivate and grow the best and brightest technology startups from within our own local institutions," she said. "It will help keep and grow entrepreneurs in the region, bringing new jobs and economic opportunity."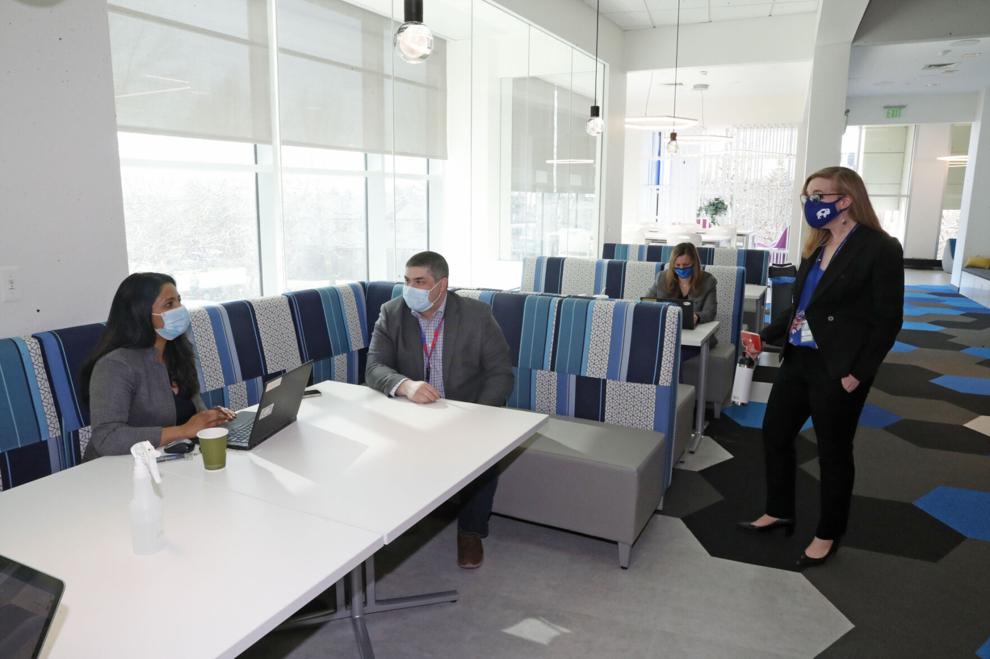 The incubator is already working with 30 local startups, 10 of which have a presence at the facility, Orsi said.
Garwood Medical Devices has licensed technology that was developed at UB, and the incubator is a good fit for the healthcare company's plans, said Mary Canty, the company's lead scientist.
"Without the facility provided here, we would not have our own lab, so the amenities and everything that's available to us here has allowed us to really push this research forward towards product and market development," Canty said.
Helixintel, an early-stage startup, makes free software for small businesses that simplifies their maintenance needs.
"This is a great place," said Peter Burakowski, vice president of strategy and a co-founder of the business. "It's innovative, it's exciting. And beyond the space itself, we're excited to be connected to the entrepreneurs that are here, to the mentors we'll able to work with and to the UB community."
While startups don't have to be affiliated with UB to use the incubator, Orsi said the university wants to build connections with whatever companies come in.
"What they want is a place they can come and connect with other entrepreneurs, a place they can work other than their home, a place they can network, a place they can get access to mentoring and coaching," Orsi said.
Orsi said she has seen stronger interest in entrepreneurship among college students than in the past.
"They're hungry to learn more about, what would it take to start my own company, how can I be an entrepreneur or an innovator in existing companies?" she said.
Source: UB incubator gives new push to startup growth | Local News | buffalonews.com