Inside one of the new labs at the University of New Hampshire's Manchester campus on a recent afternoon, assistant professor of biotechnology Kristen Johnson and two students evaluated genes as part of pancreatic cancer research.
The process is known as quantitative polymerase chain reaction, or qPCR.
"We are looking at various aspects of pancreatic cancer," Johnson said. "We are trying to evaluate some of the things related to the DNA inside the cells."
The university got its occupancy permit in October for its new $6 million Biotechnology Innovation Center on the sixth floor of its Millyard building at 88 Commercial St., according to Mike Decelle, dean of UNH Manchester. The space, which features state-of-the-art equipment, will be used for classes, faculty research and incubator space for startup companies.
Part of the goal is to support the workforce needs of the Advanced Regenerative Manufacturing Institute (ARMI), the Millyard nonprofit led by inventor Dean Kamen that aims to bring together various research efforts and create an industry to regenerate human tissues and organs. Funding for the $6 million lab included $5 million from the University System of New Hampshire, a grant from ARMI and other sources.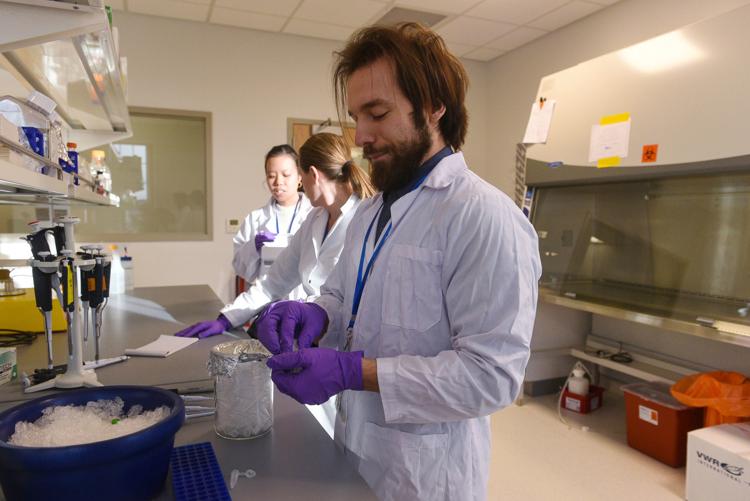 "You don't want to end up in a situation where you have all the technology you need, but you don't have the people to actually take advantage of it or further develop it," said Decelle, who also serves as chief workforce officer at ARMI.
ARMI received $80 million for the Department of Defense and $214 million from industry, university, nonprofit and other sources. More than 150 partners have signed on.
Earlier this month, CollPlant, an Israeli regenerative medicine company, joined the ARMI network. The company is focused on 3-D bioprinting of tissues and organs, according to its website.
Kamen, ARMI's chairman, said engineered tissue manufacturing needs to become more widely available.
"As an ever-growing ecosystem of industrial, governmental, academic, nonprofit and clinical institutions, I have no doubt that we can achieve our mission to make practical the large-scale manufacturing of engineered tissues and tissue-related technologies, to benefit existing industries and grow new ones," he said in a news release.
The ARMI/BioFabUSA Spring Summit is scheduled for May 20 to 21 and will focus on technologies and approaches to the manufacturing of engineered tissues.
The Biotechnology Innovation Center at UNH includes shared space and four small private labs (500 square feet) for rent. The idea is to share costs in common facilities and equipment.
"If you go down to Kendall Square in Cambridge you'll find incubators all over the place. This is the first of its kind in New Hampshire," Decelle said. "It was largely inspired by the ARMI grant."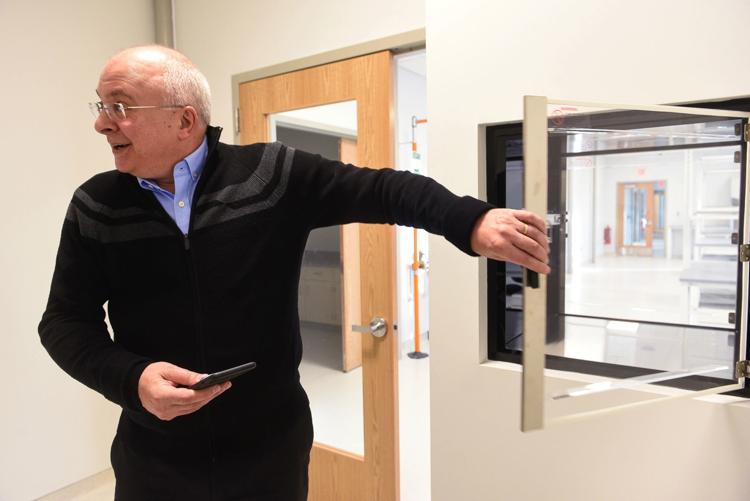 The space includes a cell culture training room.
"A lot of the biomanufacturing workforce needs have to do with cell culture and being able to handle things aseptically without contaminating them," said Mary Stewart, director of education and workforce development for UNH and ARMI.
Several ARMI partners, including United Therapeutics, are looking for people trained in such work.
"One of the first things they did was ask UNH what kind of employee cell culture programs we have," Stewart said.
ARMI has its own lab space at 400 Commercial St.
"Their biolabs are a little bit more focused on manufacturing phase technology. We're much more focused on pre-product or research phase work," Decelle said. "Having an incubator is part of workforce development. We need an ecosystem here in Manchester, and part of the ecosystem is having access to facilities like this."
ARMI's BioFabUSA program is designed to attract and develop an ecosystem of both large and small industrial/commercial institutions, according to its website.
Some of the focus of the UNH lab is providing certificates and credentials outside classic degree programs.
BioFabUSA has a focus on helping injured veterans and finding them jobs after their service.
"The motivation for the BioFab project is to help address the damage done by soldiers that are impacted during their time in theater," Decelle said. "They come back with a lot of injuries, so being able to regenerate their tissues, regenerate their limbs, repair what is broken is a strong motivation for the program itself."
UNH will launch a master's degree program in biotechnology in the fall using part of the new space.
About 4,000 square feet of the new lab is dedicated to training for ARMI technologies. This includes training those looking to switch careers.
"A lot of our ARMI partners tell us that we are sending them really smart students, but they don't come in ready to work in the lab, so some of what we've learned is we need to do more to make them job ready," Decelle said.
Johnson said she is still moving into the new lab.
"It is very, very exciting to have this opportunity to have students up here experiencing all the new technologies and new equipment that we are going to have here," she said. "And once we bring in tenants, the opportunity to interact with them is going to be exciting as well."
Source: New $6M UNH lab space provides space for students, start-ups | Business | unionleader.com