Groundbreaking research happens every day at NC State, and a growing number of important technologies are making the leap from lab to marketplace. It's no surprise that adequate funding is crucial to this transition.
While grants and other funding may initiate research and get the ball rolling, there's a real need for continued funding to take something from an idea and a set of data to a fully fledged market-ready product. That's where the Chancellor's Innovation Fund comes in.
NC State Research
Learn how NC State supports research that advances innovation and discovery.
Explore our research
NC State established the fund in 2010 with support from Chancellor Randy Woodson to help fill the gap between public and private funding and help bring new products and technologies to the marketplace.
Over the past eight years, the fund has awarded $2.6 million to 40 projects that have attracted more than $33 million in follow-on research funding — money given after the initial investment.
The funding enables NC State researchers to invest in testing and prototyping — critical for helping to prove market viability. Existing companies may choose to license the resulting research or prototypes, or developers may decide they want to launch a startup on their own.
"The Chancellor's Innovation Fund has proven one of NC State's most successful mechanisms to enable and catalyze researchers who are thinking about commercializing their research," says Wade Fulghum, interim executive director of NC State's Office of Technology Commercialization and New Ventures, which helps researchers get their discoveries and technologies into the right hands. "The selection process is ultra-competitive."
Recipients for 2019 are tackling everything from blood-clotting nanomaterials and canine cancer vaccines to more efficient electric vehicle chargers.
Meet the 2019 Chancellor's Innovation Fund Recipients
Helping the Body Heal Itself
Ashley Brown, assistant professor in the Joint Department of Biomedical Engineering, has developed microgel-based materials that mimic blood platelets in her Advanced Wound Healing Lab at NC State.
The leading cause of death for Americans under age of 40 is traumatic injury. High mortality rates are caused in large part by uncontrolled bleeding — especially for military personnel. Clot formation relies on platelets, and once the bleeding is controlled, wounds need to remain free from infection to heal.
Newly developed platelet-like-particles mimic the body's natural clotting abilities, and may help regenerate tissue while delivering targeted antimicrobial agents. Brown's research has extended the shelf life and affordability of these agents, which can be applied topically or injected to treat both massive hemorrhage and internal bleeding.
The Chancellor's Innovation Fund will enable studies to further evaluate safety and efficacy.
Prebiotics: Helping the Good Guys in the Gut
Jose Bruno-Barcena, associate professor of microbiology in the Department of Plant and Microbial Biology has developed a new method for the production of the prebiotic N-Acetyllactosamine that is yeast-based and cost-effective.
Consumers are increasingly aware of gut health and microbiomes, and are seeking ways to get more pre- and probiotics into their diets from common consumer goods. This prebiotic has applications in the burgeoning baby-formula market. Manufacturers are responding, but creating these compounds can be costly, driving up the prices of the foods that contain them.
The Chancellor's Innovation Fund will support safety and scalability studies for this trending food additive.
Microneedle Patches for Painless Fluid Extraction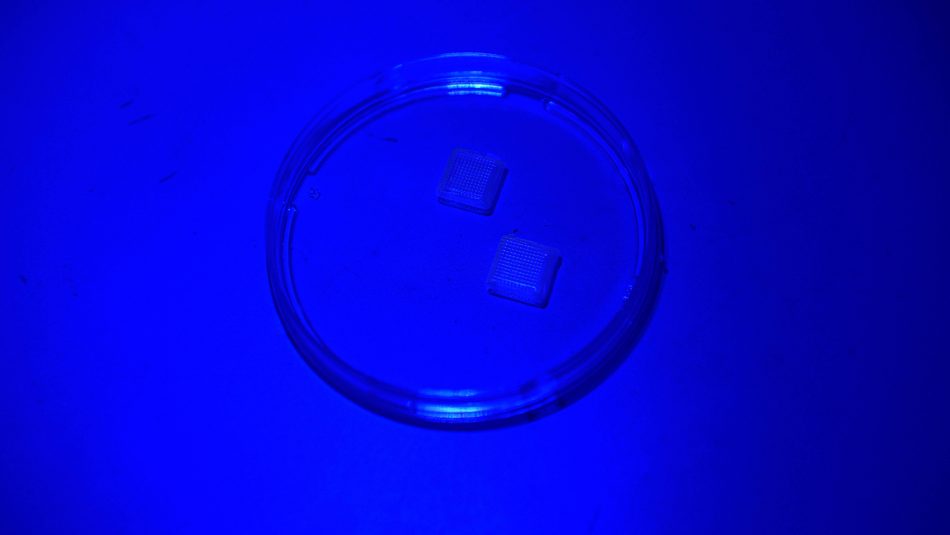 Michael Daniele, assistant professor in the Department of Electrical and Computer Engineering, and in Biomedical Engineering, has developed microneedle patches for biofluid extraction. Many diagnostic tests rely on blood, but interstitial fluid, or ISF, contains many of the same compounds in an easier-to-access form.
Standard ISF sampling methods are painful and risk infection. Daniele has developed swellable microneedles made with durable nanomaterials that successfully extract ISF by drawing it to the surface of the patches. Such painless and easy processes will eventually enable development of do-it-yourself diagnostics.
Funding from the Chancellor's Innovation Fund will go toward demonstrating an industry-specified rate of fluid extraction. Currently the patches are being tested at 30 minute intervals for extraction, but researchers are hopeful that can be reduced.
A Possible Canine Cancer Vaccine
Paul Hess, associate professor of oncology and immunology in the Department of Clinical Sciences, has developed a potentially groundbreaking cancer vaccine for dogs.
Cancer is the leading cause of disease-related death in dogs in U.S. households. In fact, 4 million dogs are diagnosed with cancer annually. Cancer treatments are typically complex and expensive for dogs, and a vaccine would be game changing.
Hess has developed an antigen made in many tumor types that are notoriously chemoresistant. The potential vaccine would be cheaper and less toxic than chemotherapy, and could be modified to increase its potency.
The Chancellor's Innovation Fund will support a clinical trial of the vaccine in dogs with canine lymphoma.
Electric Vehicle Fast Chargers
Srdjan Lukic and Srdjan Srdic, associate and research assistant professors, respectively, in the Department of Electrical and Computer Engineering, have developed a prototype fast charger for electric vehicles. Sales for electric vehicles are climbing steadily, and nations around the world have signaled their commitment to the development of this new technology. As electric vehicles become more popular, there's a need for a refueling infrastructure similar to the network of traditional gas stations.
Previous Awardees
For 2018, the Chancellor's Innovation Fund backed projects to combat multidrug resistance, uncover hidden toxics associated with ALS and create a complex virtual marine ecosystem modeling platform.
Explore the Projects
Lukic and Srdic have developed an efficient modular E.V. fast charger that is cheaper to install and operate than existing charging stations. It has a smaller footprint and higher charging efficiency, which will benefit both E.V. owners through faster and cheaper charging options, and charging station owners with cheaper installation costs, better site utilization and higher revenue.
The Chancellor's Innovation Fund will support efforts to develop a prototype for industry testing.
Source: Out of the Lab and Into the World | NC State News | NC State University